Welcome to the South East Clinical Senates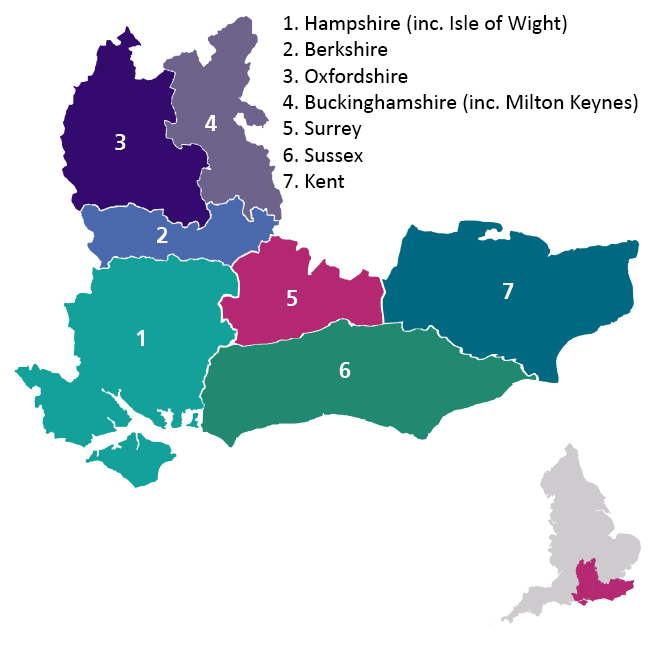 The South East Clinical Senates comprise of two localities: The geographies of Hampshire, Thames Valley (1-4) and Kent, Surrey, Sussex (5-7). Clinical senates are non-statutory with no executive authority or legal obligations. Since their inception in 2013, Clinical Senates have established trusted and credible relationships with local stakeholders within their specified geographies. These relationships have developed alongside the commissioning and regulatory landscape as it has continued to evolve, ensuring at all times continuing access to independent and impartial clinical advice.
Clinical Senates act as a source of clinical leadership and impartial clinical advice to support commissioners and other stakeholders to make the best decisions about health care for their populations. Clinical senates' advice may be provided to, or be of relevance to, a number of different bodies within the health and care system, including commissioners, providers, local government, improvement bodies and regulators, at a system and place based level.
In order to be effective and credible, the Clinical Senate membership is multi-professional, geographically representative and spans the breadth and depth of commissioning and provider organisations.  Members are clinical experts with strategic abilities, held in high regard in their respective fields. All members are expected to decouple institutional allegiances and obligations from their advisory role on the Senate. Clinical Senates have the opportunity to develop professional consensus to help local health communities make effective decisions about quality, equity, safety and efficiency.
By harnessing the collective clinical expertise and intelligence across the region and combining with patient and public engagement, the South East Clinical Senates are a valued partner in the new and evolving commissioning landscape of Integrated Care Systems (ICS) and 'place based' planning, providing proactive and reactive advice across the region's health care systems for the benefit of improved patient outcomes and population health.
Our Vision and Mission
To work collaboratively to provide a source of strategic, independent advice and leadership to support systems to deliver the best care and health outcomes for patients, their families and their communities.
This means supporting:
Patient needs, patient choice and personalised coordinated care
High quality, sustainable and equitable healthcare
A values-based approach
The South East Clinical Senate will:
Provides high quality, evidence based strategic clinical advice and guidance.
Carry out proactive reviews for systems on identified topics of interest to systems in the region. For example; inequalities, sustainability, workforce.
Supports ICSs and system colleagues by providing patient-focussed, clinical advice and support as plans are developed, acting as a critical friend.
Facilitates system wide sharing and learning.
To create a common culture across all clinical disciplines and organisations as a platform for the development of health services across the South East.
To create a consistent, coherent clinical leadership role that is locally credible and exerts a strong and positive influence on the development of services.
To foster a culture of patient and public involvement in the formulation of strategic clinical advice.
To build strong and enduring relationships with local commissioners and seek alliance and alignment with the Academic Health Science Network, the Clinical Delivery and Networks teams, Public Health, and Health Education England.
Provide evidence based clinical advice, act as an honest broker and, if required, undertake reviews to areas where there may be a lack of consensus in the local health system.
Provide independent clinical advice to commissioners in respect of major service change programmes, to inform the NHS England service change assurance process.
Work with stakeholders to identify aspects of health care where there is potential to improve outcomes and value. Provide proactive advice about the areas for inquiry or collaboration, and the areas for further analysis of current evidence and practice.
Operational Model
The Clinical Senates' Councils are small multi-professional steering groups. The groups co-ordinate and manage the Senate's business. They maintain a strategic overview across their region and are responsible for the governance and oversight of advice working with the expert review panel convened and tailored individually to meet the full scope of the advice being sought.
Membership of the Senate Councils are multi-professional and includes nominated members, patient and public partners, recruited members and ex officio members from NHS England and arms-length bodies. Members are recruited based on their credibility and experience in their particular professions, they are not appointed to represent their organisations.
Appointment of members is carried out through a fair and transparent process with professional input as appropriate; members are appointed for two to three years to ensure continuity.
An important role of the Senates is to provide clinical assurance in NHS England service change assurance. This was a role previously provided by NCAT (National Clinical Advisory Team), who formally disbanded in April 2014.  The Senates may be called upon to provide input to assurance of service reconfigurations across their regions or into other regions if this is appropriate.
The South East Clinical Senates provide a regional clinical advisory service with two geographical localities: Hampshire Thames Valley and Kent Surrey Sussex; each locality has a separate Council and Chair.
Working with the lead commissioners, the Clinical Senates will agree terms of reference for a topic and then convene an Expert Review Panel by bringing together the relevant expertise from its council, external experts and other relevant bodies clinical network. Members of the panel are required to submit both a declaration of interest, and a confidentiality agreement.
Governance and Accountability Documents
Single Operating Framework